Green housing: The role of wood products in emission reduction of building and construction
The building and construction sectors are pivotal in shaping cities and lived environments. However, growing population and living standards have driven us to a tipping point where anthropogenic mass, of which construction accounts for a massive share, has overtaken that of biomass. Simultaneously, the sector's gigantic impact on greenhouse gas emissions, approximately 40% of the global aggregate, cannot be overlooked.
The greenhouse gas emissions from the building and construction sector occur not only during operational use (operational carbon) but also throughout the entire life cycle of constructed assets from construction to end-of-life (embodied carbon). At present, approximately half of the emissions associated with building materials can be attributed to steel, iron, and cement.
Source: UN Environmental global status report
Sustainable production processes are being developed for materials such as iron & steel and cement. However, the widespread commercialisation of more sustainable production processes will require some time. For instance, the steel industry aims for 55% GHG reductions by 2030 and Global Cement and Concrete Association is pursuing net zero concrete production by 2050.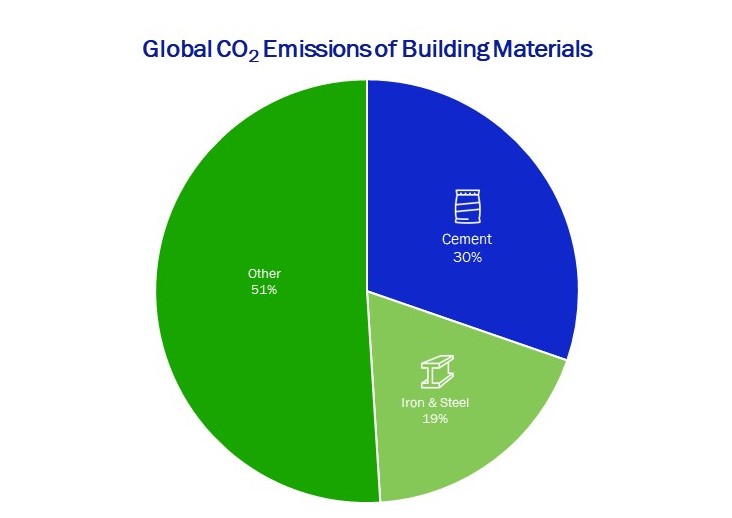 Source: UN Environmental global status report
Nonetheless, the reduction of embodied carbon in building materials should not depend solely on the progress of commercialisation within these industries and therefore evaluation of alternative building materials beyond these options is essential.
One existing alternative to significantly reduce embodied carbon emissions is to employ engineered wood solutions such as CLT (cross-laminated timber) and LVL (laminated veneer lumber). These engineered wood solutions can already substitute the use of traditional construction materials in several applications.
Although the widespread utilisation of CLT and LVL remains limited, largely due to the industry's traditions and established principles and constrained supply, engineered wood solutions have shown promising growth in response to the increasing emphasis on sustainability concerns.
Green Building Breakthrough with CLT and LVL
In CLT and LVL, multiple layers of wood are glued together, resulting in strength and durability comparable to steel and concrete structures.
Compared to energy-intensive building materials like cement, iron & steel products, LVL and CLT do not only offer a more environmentally friendly production but also serve as a carbon stock.
This means that the carbon dioxide stored in wood remains in CLT and LVL products throughout their lifecycle, without being released back into the carbon cycle. This dual benefit yields a substantial substitution effect of 1 – 2.5 tonnes CO2 for every cubic meter (m3) of engineered wood or 2 – 5 tonnes per ton of engineered wood, with a typical density of approximately 0.5 kg/m3. The substitution effect depends entirely on the material being replaced and its production method.
The graph below illustrates the CO2 stored in the product and the CO2 emissions caused by the manufacturing processes of stainless steel, ceramic tile, concrete block, and engineered wood, as outlined in the Carbon Footprint for Building Products report by the Technical Research Centre of Finland (VTT).
Source: VTT – Carbon footprint of building products
Additionally, the lightness, ease of modification and transportation of CLT and LVL components to construction sites provide benefits in improved circularity and lifecycle.
CLT and LVL products can be employed in structural framework of residential and commercial buildings, serving as beams, columns, and wall panels, offering stable and durable support to the structure. Customisation supports the off-site prefabrication and modular construction of structures, accelerating installation and minimising disruptions at the construction site. Furthermore, CLT and LVL products possess flexibility to diversify building and interior design plans and inherent visual appeal.
Challenges in the adoption of engineered wood products
While engineered wood offers significant opportunities in the building and construction sector, its widespread use remains limited. This is partially due to the long-standing traditions in the construction industry. Shifting from traditional methods and materials to new ones takes time, education, and resources.
Changing old habits and thinking can be slow. Additionally, the construction sector is subject to strict local building regulations and standards, even though regulations and standards for wood construction have improved, addressing concerns, and ensuring the safe use of wood.
Furthermore, the challenges in promoting the use of engineered wood products (EWPs) to construction companies necessitate extensive marketing efforts by EWP producers. Also, the limited availability of engineered wood products is due to the smaller scale of the EWP industry in comparison to steel and concrete, which also restricts its impact on the construction sector.
Regulation provides safety and drives growth
The evolving legislation is a key factor in promoting wood consumption in building and construction and assuring its safety and compliance through tests and validation. Currently, there is no EU-wide legislation specifically considering the whole life cycle carbon footprint (WLC) that includes building products, processes, and end-of-life. EU-wide legislation focuses primarily on reducing operational carbon emissions from buildings, especially by improving the energy efficiency requirements.
It is expected that, following the Energy Efficiency Directive, EU legislation will further develop EU-wide WLC legislation, increasingly promoting the attractiveness of low-carbon building materials.
Currently, a few EU member states are advancing WLC legislation through national measures that supports the use of wood in construction. For instance, France, Denmark and Netherlands have implemented national legislation actions to measure the life cycle emissions of new buildings through life cycle assessment (LCA) and to reduce these emissions by setting limit values for them. Also, Finland and Sweden are proposing to implement limit values in the near future. Furthermore, Finland and France have set ambitious targets for increasing wood usage in public buildings. However, the results have been limited so far and more widespread change of attitudes is required for wood to gain more popularity.
The use of wood as a building material not only promotes sustainable construction but also embodies the cascade principle, meaning efficient and sustainable use of resources throughout their lifecycle, focusing on maximising value and minimising waste, in line with EU policies.
Green finance to accelerate wood construction
Investors and stakeholders are placing growing emphasis on ESG factors in their decisions within the construction sector, and they are increasingly incorporating the industry into green financing initiatives.
This drives buildings and construction companies in the industry to adapt more sustainable practices to positively influence the accessibility and cost of financing. The shift towards more sustainable practices in the building and construction sector is increasingly supporting the use of wood and reshaping industry norms and perceptions regarding wood usage as it becomes more prevalent.
The greening of construction industry
Greening of the construction industry has created positive momentum for the use of wood in construction. Technological developments and innovations widen the possibilities for wood's end-use applications, and its contribution to CO2 emission reduction throughout its lifecycle provides an additional incentive. Furthermore, hybrid construction offers myriad and diverse multi-material opportunities as related knowledge and skills improve.
In the construction sector, the shift towards sustainability necessitates a comprehensive approach and multiple solutions. While wood plays a vital role, it alone cannot meet the industry's diverse needs, underscoring the essential requirement for other sustainable building materials like steel, iron, and cement to support the construction industry in its journey towards a more sustainable future.
On the author: Jussi Räsänen, Consultant. Jussi holds a MSc in Chemical Engineering and has a background as senior process engineer. He has a strong interest in bio-based materials and new energy solutions.
About us: We help our clients in the transition to a fossil-free future. Vision Hunters offers strategic advisory services for the forest and bio-based industries. Our expertise spans the entire value chain from forests to final products and side-stream businesses. Our offering includes tailored strategic analyses, investment opportunities, business assessments and operations improvements. With in-depth knowledge and industry vision, we tailor implementable pragmatic solutions to support our clients in the sustainable transition.