Sustainable Sourcing Solutions: Turmoil in birch supply
While birch pulp is globally used mainly for producing specialty papers with specific requirements, in the Nordics, where it is readily and locally available, it has commonly been used in the production of ordinary paper. Birch's compact fibre structure offers excellent printability and image reproduction, making it suitable for a wide range of applications such as board, carton, and graphic papers.
Challenges in Birch Wood Sourcing
A number of factors are currently influencing the wood sourcing dynamics for birch:
Pulp and Paper Industry Downturn
The current downturn in the industry has led to a demand decrease. Despite a general decline, demand for non-Russian birch remains solid. With exports from Russia, a large supplier, halted to the West, the market has consequently become tight, opening opportunities to adopt and explore new sourcing options.
Market Development of Finnish Birch Pulpwood and Log
The harvest of birch pulpwood and logs has remained relatively stable from 2019 to the first quarter of 2023, accounting for seasonal adjustments. However, the price increase during the same period has been significant. This upward trend indicates potential market adjustments and sentiment. Additionally, it opens possibilities of temporarily increasing the harvest volumes of birchwood to meet demand.
Harvesting volume development in Finland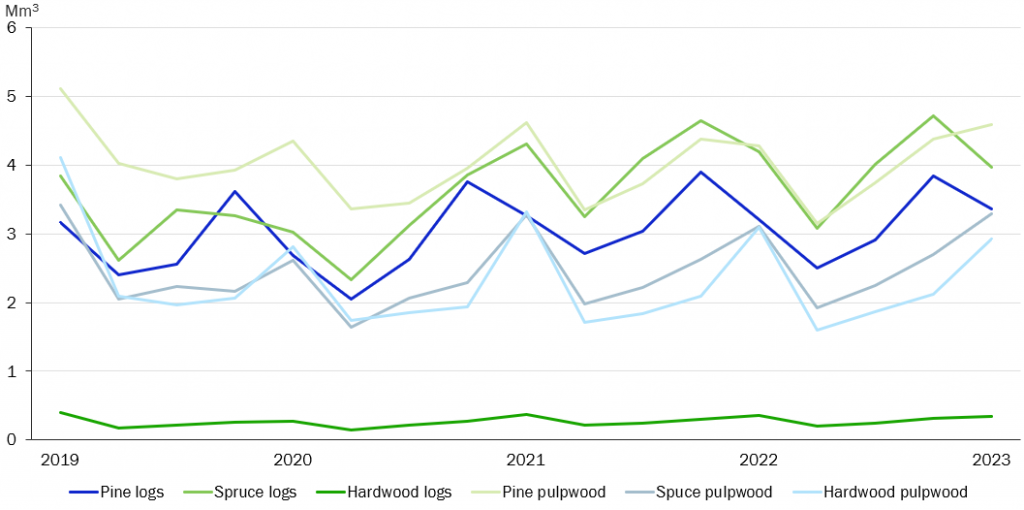 ( Source: Luke 2023)
Price development of birch in Finland 
Note: Weekly observations. Stumpage price: price does not include cost of harvesting and logistics. (Source: Luke 2023)
Navigating Market Adjustments
In response to the challenges faced by the pulp and paper industry and the evolving market dynamics for birch, risk mitigation strategies can be adopted to ensure stable and sustainability supply.
By strategically restructuring the wood sourcing process, diversifying suppliers, and substituting products, the industry can overcome challenges and ensure a steady supply of birch wood.
Diversifying Wood Sourcing
Reducing single source reliance helps mitigating supply chain risks associated with fluctuations in availability. Exploring alternative countries in the Baltic Rim region for birch wood sourcing can create a more resilient and sustainable supply chain.
Increasing Collaboration
Strengthening partnerships and collaboration among industry stakeholders, such as pulp and paper manufacturers, wood suppliers, and government bodies, can foster innovation and resource optimisation. This collaboration can help develop sustainable harvesting practices and ensure long-term availability of birch wood.
Emphasising Sustainable Practices
Adopting sustainable forest management practices, including responsible harvesting, reforestation initiatives, and the use of certified wood, can help preserve birch ecosystem and maintain a balance between demand and availability.
For advisory in wood sourcing or exploring alternative wood species as substitutes for birch, please reach out to Vision Hunter. Our team is dedicated to providing independent and tailored solutions to meet your needs. With expertise in wood and land availability, wood sourcing analyses, and forest transaction advisory services, we are committed to find a sustainable future for your procurement.
On the author: Martin Karlsson is an Analyst with an M.Sc. (Econ) degree. Additionally, he is currently studying for an M.Sc. in Forestry, majoring in forest bioeconomy
About us: We help our clients in the transition to a fossil-free future. Vision Hunters offers strategic advisory services for the forest and bio-based industries. Our expertise spans the entire value chain from forests to final products and side-stream businesses. Our offering includes tailored strategic analyses, investment opportunities, business assessments and operations improvements. With in-depth knowledge and industry vision, we tailor implementable pragmatic solutions to support our clients in the sustainable transition.