Flexible packaging – Rigid standards
Fibre-based flexible papers have been used for years as a sustainable alternative to their plastic counterpart. The ambition for full substitution is bold, but does fibre-based flexpack fulfil the qualifications in terms of availability and technical properties?
As the reputation for plastics is going down, many are willing to opt for renewable alternatives. The transition towards renewable packaging has been examined by many brands and industries. Can fibre-based flexpack offer a solution to the growing issue of plastic pollution while maintaining the quality and product protection of plastics?
What are flexible papers?
Flexible paper packaging serves the same protective function as conventional, non-rigid plastic packaging, but is made from renewable, fossil-free resources. Flexible papers weigh less than 100 grammes per square meter and have no laminations, labels, glassine, or silicone. Flexible paper packaging can be used for various applications such as in food, confectionery, pet food, and personal care. All forms of flexible packaging, like bags, flow wraps and pouches, etc. can be made from fibrous material. Packaging with direct food contact must be virgin fibre-based to avoid the contaminants, such as mineral oils, bisphenol, phthalates, photo initiators and inorganic elements that may migrate via recycled fibres.

Figure 1: All forms of flexible packaging, like bags, flow wraps and pouches, etc. can be made from fibrous material. 
Performance over recyclability?
Conventional and converted fibrous flexpacks must be durable, printable and have a great shelf presence. They must be recyclable and re-pulpable. When virgin packaging is transformed into recycled material, its desirable qualities may become impurities.
There is no global regulation on recyclability and many companies hide behind vague protocols. National and even regional guidelines often differ. Some countries allow plastic layers, windows, laminates, double-side coatings, or wax dispersions in flexible paper.
The truth behind companies' promises to use less plastic is sometimes indistinct. Paper packaging licensing varies as well; some countries license materials with fibre content below 80% as composites, whereas others allow classification as paper for materials in which fibre is the primary component.
Triumph of monomaterials rains on paper's parade
Monomaterials are preferred for easier recycling. Paper can be metallized or have a high-barrier and still remain recyclable. However, the consumer perception may suffer if additional layers are added to paper. Education, a functional collecting infrastructure and recycling options are all crucial. Without them papers may end up in the environment, releasing PE films and PVdC as residues.
At the moment, fibre-based papers are at a stage where you can't have it all. Paper itself is nearly 100% recyclable, but not entirely so; there are always additives, agents, stickies, and coatings. The higher the functionality, the lower the recyclability.
The minimum fibre ratio of 75% may drive to produce unnecessarily thick papers. As an example, a non-barrier coated flexible paper is nearly all fibre. High barrier flexible paper, printed, with cold or heat seal, with additional top coating for printability, has a fibre ratio of about 80%.
A justified sustainability premium?
The production costs of flexible papers have decreased, but are still at least double those of plastics. Further, the functionality of paper does not quite match plastics; it is not as "flexible" and needs additional barriers when in direct food contact. The global capacity of flexible papers is rather settled and the yield in the production must be still improved. The availability covers more than just the production; advanced fibre collection infrastructure is also needed to return the precious materials back into the loop, truly promoting circular economy.
Fibre-based packaging is a part of the brand image only for a few brands so far. Despite the interests in sustainable packaging, the environmental benefits of fibre-based flexpack remain limited. For example, in confectionery, the packaging contributes to only 3% of the carbon footprint.
Moreover, preliminary LCA does not show significantly greener light to fibre-based flexpack. As paper packaging requires more transportation than plastics, the paper mills and converters should be located near the market. Comprehensive collaboration is needed to increase the attractiveness of fibre-based options.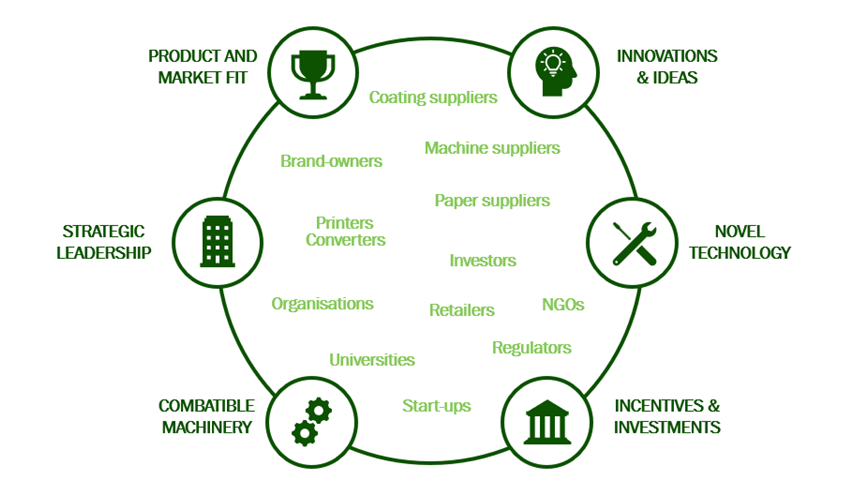 Figure 2: The necessary elements and stakeholders for enabling the development of sustainable packaging.
A small but important step towards circular economy
The source of raw material is only one pillar in sustainable product design. The reform of the entire value chain is called for, all the way from sourcing to sorting and recycling, for both the packaging and, more importantly, the product to be protected. Fibre-based flexible packaging does not offer a panacea to sustainability issues but acts as a final touch in sustainable product design. It is a small but important step to promote responsible consumer behaviour and communicating better choices for the planet.
On the author:  Hanna Lahtinen, Strategy Analyst. Hanna (M.Sc. in Economics and Business Administration )  is keen to promote natural capitalism and resource sustainability.  She has also studied environmental engineering and has expertise in the primary and secondary sectors of circular economy.
Interested in knowing more about our capabilities in this field, please see our packaging & paper offering.
Vision Hunters provides strategic advisory services for the forest and bio-based industries, and energy sectors. We assist leadership teams in making the smartest strategic choices to improve the outcome of their company in the future. We are highly experienced and result-oriented and have advised many of the leading companies in our industry.